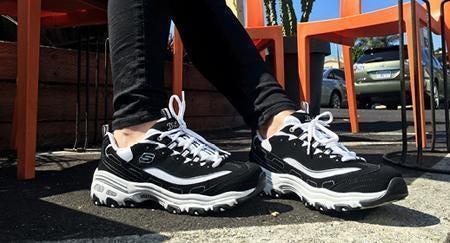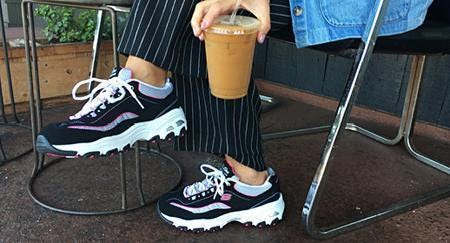 Can you believe one of the hottest current trends in women's footwear is a throwback look to the late 90's that's now in the midst of its second revival? Known as D'Lites, these signature Skechers profiles originated with one of our early blockbuster sport styles–the Energy. For anyone in high school two decades ago, the Energy was everywhere. It could pair with almost any sport casual look. And after a certain mega pop star started wearing them in Skechers advertising, their popularity shot through the stratosphere. Almost ten years ago the style was updated to be lighter, a bit more sleek–and D'Lites were born. More recently, fashion cues from the late 90's started coming back in vogue everywhere, opening the door for yet another revival. It hit first in Asia where last year D'Lites were suddenly seen everywhere once again. And now they're back on top state-side too.

We profiled D'Lites as perfect normcore styles last spring, but the trend has since extended well beyond that niche look. The chunky heel gives you a little extra height and now with a soft Air-Cooled Memory Foam insole they're more comfortable than ever. Whether you're hanging out, chilling out, or going out, the distinct D'Lites profile will perfectly complement your easy going personality. We all know the irony and struggle of working the effortless casual look is that sometimes we have to put a lot of work into it! With D'Lites it's just easy. Check these images out for some styling tips with your D'Lites.

Skechers loves Brooke Burke-Charvet and she gushes over the comfort found in D'Lites in her newest commercial. Check it out below and let us know in the comments how you would style your perfect pair of D'Lites! And if you don't have a pair, head to a Skechers store now or purchase here.