We are very excited to introduce this exciting collaboration Shopkins By Skechers!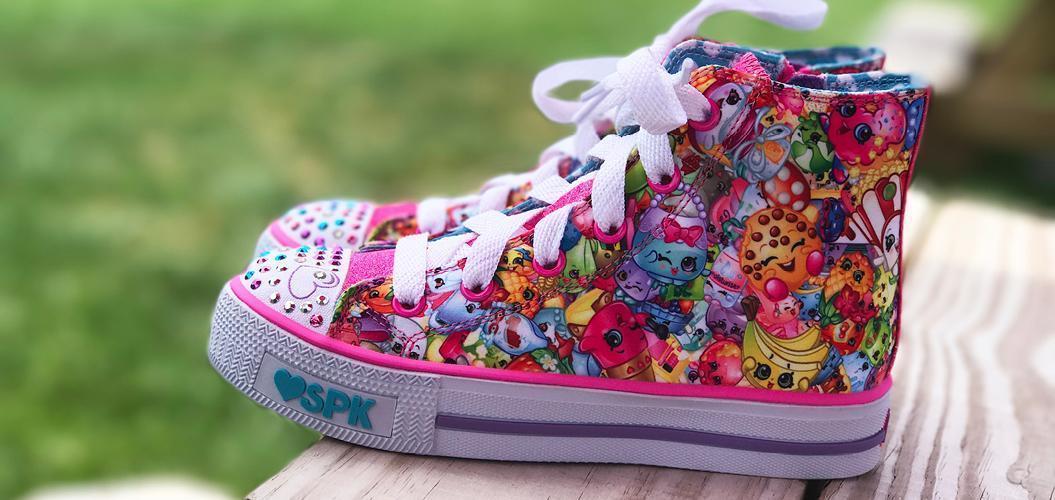 Shopkins is a range of tiny, collectable toys, manufactured by Moose Toys. Shopkins are based on grocery store items. Each plastic figure has a cute face and unique name and the collectable toys all have lines of clothing, trading cards and other merchandise that can be bought, along with the toys themselves. Each figurine has a face and its own name. They are distributed in bright coloured packaging with bubble letters. Shopkins are named after the grocery item they originated from, ie. sweet apple named Apple Blossom, a lipstick named Lippy Lips, and a chocolate chip cookie named Kooky Cookie.
There are hundreds of Shopkins in the Shopkins World. Shopkins are organized into categories such as Sweets or Bakery. Shopkins are collected and traded based on their rarity.
Skechers have collaborated with shopkins to create a line of footwear for young girls. The shoes feature Shopkins characters and branding. Skechers has chosen its Twinkle Toes style of shoe as the base for the collaboration.