WE ARE SO EXCITED TO HAVE CAMILIA CABELLO AS PART OF THE SKECHERS FAMILY, TWO OF HER SKECHERS HI LITES HAVE ARRIVED WITH MORE TO COME EARLY JULY 2018!
Welcome to the Skechers family! What are you most excited about with your premiere campaign?
I am so excited to be working with Skechers! I've been such a big fan of the brand! My sister is really excited about the partnership because she gets free Skechers – it makes me the best big sister right now!
I am really excited for my fans to see what we have been working on together and am excited for them to see this commercial!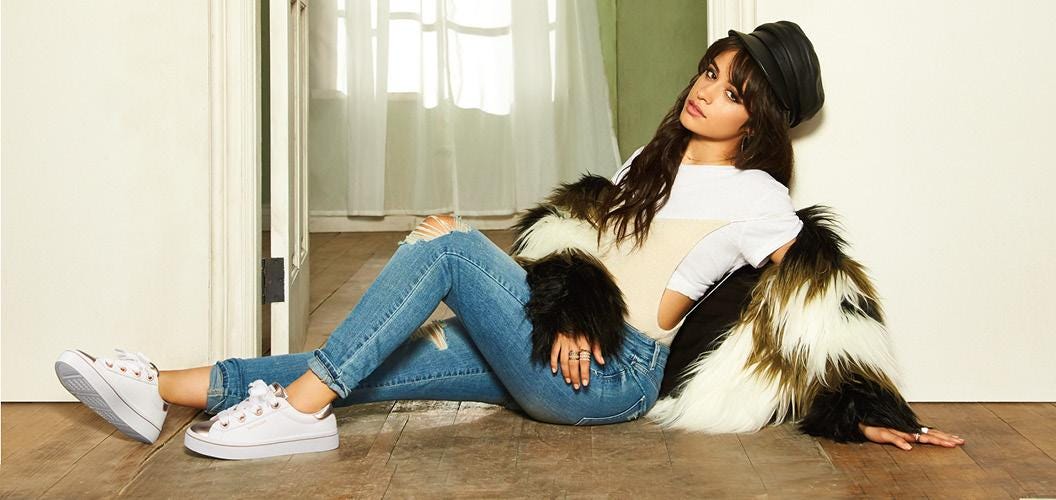 The mantra of our Skecher Street division is "Comfort. Confidence. Style."
Since you're always on the move with tours and performances, how important is comfort to you?
Comfort is so important to me because I can't tell you how many times I've been doing a performance wearing really uncomfortable high heels and I can't get into it because I am afraid I am going to fall or because they're destroying my pinky toe. I think being comfortable is really important because it lets you not worry about anything else, but being yourself and having fun.
What's your style and where do you pull inspiration from?
I think my style depends on what mood I'm feeling. Sometimes I just feel like being relaxed and in sweats pants, and other times I feel like wearing hoop earrings and something bright! It's just about whatever makes you feel like you're expressing yourself and your personality through what you're wearing that day.
You appear ultra-confident! What are your tips for young girls that look up to you?
My tips for confidence…I would say just to have fun! For me, it's on the stage performing. If I'm having fun, it makes those around me want to have fun too! If I'm not having a good time, then how can others have a good time? I think the key is to laugh and to have fun in whatever area it may be in your life and then other people will have fun and feel confident with you!
| | |
| --- | --- |
| | |

We admire your passion to help others through various charitable efforts.
Why is it so important to you? Can you tell us which are the most important to you?
One of the things that attracted me to Skechers was their philanthropic efforts through their BOBS program – helping children and animals in need, because that's something that is really important to me and close to my heart. I work closely with this charity called Save the Children – I actually started working with them a little over a year ago. They focus a lot on children - whether it's education, disease or poverty. It's really important to me. Last year we did a "love only" t-shirt and all of the proceeds were donated to the charity to benefit all of their causes. It's really important to me to use this platform to do good in the world – that's what it's all about.
Skechers is in over 160 countries including China, Korea, across Europe and of course Chile, Caribbean, Peru and Mexico.
How does it feel to be the face of Skechers in a global campaign that resonates with so many people in different countries around the world?
It's so cool because I have a lot of family in different parts of the world, especially in Mexico. I have really amazing Latin fans and fans from all over the world. I actually did a version of the commercial in English and a version in Spanish – I know they will be really excited about that. It's really cool and I am so thankful that Skechers is giving me that platform to be the face of such a big company. Knowing that a lot of people will be viewing this campaign is such a cool feeling.